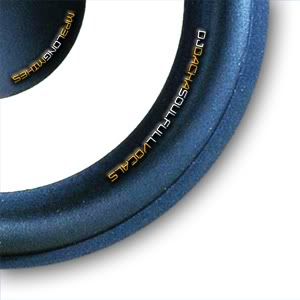 DJ Dacha - Soulful Vocals (06-Jun-2009)
This is probably the longest deep house mix I ever listened to! 598:39 minutes or 9hours 58minutes and 39seconds of deep and soulful vibes :) Packed with loads and loads of wicked tunes. Play early morning, finish in the evening!
Click "Read more..." to expand menu with the tracklist.

Name said it all, great vocals in deep, soulful, funky, house production. Listen to it and find out what you missed from the past, real stuff here - for real house music lovers ;)
00:00:00


001 CHEZ DAMIER Close SUBSTANCE
002 MARSCHMELLOWS Soulpower (Jazzanova's Straight Dub Mix) COMPOST
003 IAN POOLEY Sundowner V2
004 RESTLESS SOUL feat. NATHAN HAINES After Ours (Phreek Time Mix) CHILLIFUNK
005 TEN CITY Nothing's Changed SPIRITUAL LIFE MUSIC
006 LLORCA Take It As A Dub F COMMUNICATIONS
007 USG presents AFRICAN BLUES Sunpower DISTANCE


00:31:49


008 SHAZZ Innerside YELLOW PRODUCTIONS
009 LLORCA My Precious Thing F COMMUNICATIONS
010 SVEN VAN HEES Tsunami (Inside My Soul) (Richard's Remix) LIFE ENHANCING AUDIO
011 NORMA JEAN BELL The Baddest Bitch F COMMUNICATIONS
012 AT JAZZ Slide It In DiY
013 ANANDA PROJECT feat HEATHER JOHNSON Straight Magic NITE GROOVES
014 NORMA JEAN BELL I Like The Things You Do To Me (Moodyman Mix) NOVA RECORDS
015 SHAZZ Innerside (Universal Soul Mix) YELLOW PRODUCTIONS


00:59:06


016 THE JAZZ VANDALL'S Feel The magic BURNING RECORDS
017 JOVONN feat DAVID PATTERSON Show U Luv GOLDTONE
018 St.GERMAIN The Black Man F COMMUNICATIONS
019 NORMA JEAN BELL One Of Those Nights (Late Night Mix) PANDAMONIUM
020 DJ Q San Francisco FILTER
021 GLENN UNDERGROUND feat MIKKIEL Fly with Me GUIDANCE
022 ATTABOY New World TOKO RECORDS
023 THE DEEP Love Your Brother BASENOTIC RECORDS


01:30:00


024 AXUS feat BRATTICUS When I Fall SSR
025 FUNKY GREEN DOGS Why TWISTED AMERICA
026 DE'LACY Hideway (Deep Dish Radio Edit) DANCITY
027 AME STRONG Tout Est Blue (PK Remix) DELABEL
028 MASTERS AT WORK feat INDIA To Be In Love (MAW Mix) KSR
029 CASSIO WARE feat SAJAEDA Fantasy 157 SHELTER


01:59:22


030 CATHY WOOD Give Me Joy (Tuff Jam Mix) GARAGE NATION
031 SUPERSTARS OF ROCK Orange Sunshine (Vth Column Lounged-Out Sunset Mix) STRESS RECORDS
032 DJ DADDIO Hold Up Your Head NOVA RECORDS
033 MOOD II SWING All Night Long URBAN
034 LOW TONE PRIORITY Take You There PODIS
035 DAPHNE Theme From Change MAXI RECORDS
036 LIL' LOUIS & THE WORLD Do U Luv Me EPIC
037 KERRI KAOZ CHANDLER feat ARNOLD JARVIS Inspiration (Original Vocal Mix) FREETOWN INC
038 THE RAM PROJECT Changes M.T.G.


02:30:29


039 KERRI CHANDLER Sunday Sunlights METAPHOR
040 ABACUS Erotic Illusion (Instrullusions) APRICOT RECORDS
041 CESARIA EVORA Sangue De Beirona LUSAFRICA
042 IZ & DIZ What We Need (Satisfaction Mix) SILVER NETWORK
043 CASSIO Baby Love STREET STYLE
044 TODD TERRY presents THE DREAM TEAM Love Is What We Need NARCOTIC RECORDS
045 THE SUNBURST BAND Monte Carlo Z RECORDS
046 LOOD feat. DONELL RUSH Shout-N-Out (The DJ Dub) FEEL THE RHYTHM


03:00:29


047 FEMI KUTI What Will Tomorrow Bring (Paris City Mix) SOUND OF BARCLAY
048 THE SUNBURST BAND New York Woman Z RECORDS
049 JOVONN & DJ DEEP Back In The Dark DISTANCE
050 THE SUNGSTRESS See Linne Woman XL
051 BLAZE Wishing You Were Here (Joey Negro Extended Mix) SLIP'N'SLIDE
052 MASTERS AT WORK presents PEOPLE UNDERGROUND My Love FREETOWN INC
053 INTUITION feat GERIDEAU It's Gonna Be Alright FRUITTREE RECORDS
054 LIL' LOUIS & THE WORLD Saved My Life EPIC


03:29:40


055 FUNKY PEOPLE feat CASSIO WARE Funky People (Klubhead Vocal) SLIP'N'SLIDE
056 FRANKIE VALENTINE feat. ANITA DAVIS Lift Your Soul QUIET RIOT
057 MONDAY MICHIRU Sunshine After The Rain (MAW mix) POLYGRAM
058 JIVA Stars (Tauriva Rmx) GIANT STEP
059 MUTINY feat MARY JOY Bliss (MAW Main Mix) SUNFLOWER RECORDS
060 DEMON RITCHIE Night VITAMINE
061 GROOVE COLLECTIVE Whatchugot (Main Mix) REPRISE RECORDS
062 LIL' LOUIS & THE WORLD Club Lonely FFRR


04:01:50


063 PETALPUSHER Surrender (Original mix) HED KANDI
064 ULYSSES I'm Leaving You LARGE RECORDS
065 BUGZ IN THE ATTIC Thinkin' Of You BITASWEET
066 KERRI CHANDLER presents ARNOLD JARVIS Inspiration FREETOWN INC
067 TIEFSHWARZ Music (Latin Music Mix) BENZTOWN
068 KINGS OF TOMORROW Let It Go (98 Remix) DISTANCE
069 SMOKE CITY Numbers ZIRIGUIBOOM


04:30:20


070 SIMPLY RED Thrill Me (MAW House Mix) MAW
071 UTTERANCE Grant Me Utterance DEEP4LIFE
072 ABSTRACT TRUTH We Had A Thing (Matty's Body & Soul Remix) WAVE MUSIC
073 LISHA That's Why I'm Here (Dave's Wave) TRASPORT RECORDINGS
074 SOULVISION Don't Stop (Remix) DEFECTED
075 JOVONN feat. STEPHANIE COOKE Joy (Vocal Mix) ESTEREO
076 CORINA JOSEPH Wanna Get Down ATLANTIC JAXX
077 KINGS OF TOMORROW Finally (Kevin Yost Remix) VOCAL BIZZ
078 LOVETRONIC You Are Love (Jay's Afrotronic Vocal) NAKED MUSIC


05:01:30


079 BLUE SIX Music & Wine (Original Funkaphonic Vocal) NAKED MUSIC
080 DEEP DISH Mohamed Is Jesus DEEP DISH
081 BRAND NEW HEAVIES Sometimes (MAW Mix) ZAC
082 JOHNNY CORPORATE Sunday Shoutin (Yoruba Mix) BARGROOVES
083 BROTHER OF SOUL Be Right There GUIDANCE
084 RUFFNECK feat.YAVAHN All That Jazz MAW
085 MATEO & MATOS Don't Ever Stop Lovin GLASGOW UNDERGROUND
086 St.GERMAIN Walk So Lonely PIAS
087 ROUND TWO New Day (Club Vocal) MAIN STREET


05:29:06


088 BOB SINCLAIR & SALOME DE BAHIA Eu So Quero Um Xodo SONY
089 VICTOR DAVIES Brother (Bougie Soliterre Main Vocal Mix) FLIPSIDE
090 MD X-SPRESS Nutt'n But Da Phunk SUB TERRANEAN
091 FURRY PHREAKS Soothe OPEN
092 PRESENCE Sense Of Danger (Original Presence Mix) PAGAN
093 MOOD II SWING Do It Your Way GROOVE ON
094 FACTOR 15 Summer Love HED KANDI


05:59:05


095 PEPE BRADOCK Vermeille VERSATILE
096 D'INFLUENCE Hypnotize (M.A.W. Mix) ECHO
097 ANDREA MENDEZ Bring My Love (Classic Mix) BREAKDOWN
098 DIALECT Sitting In The Sun (JT's Live Mix) DISTANCE
099 DENNIS FERRER Shout! MADHOUSE
100 PEPE BRADOCK The Charter KIF
101 BYRON STINGILY Why Can't You Be Real NERVOUS
102 KOT FT. JULIE MCKNIGHT Finally DISTANCE


06:30:33


103 SOUL DHAMMA Flower (K.O.T.Black Orchid Vocal) VELOCITY
104 PRESENCE Future Love (Love From San Francisco Mix) PAGAN
105 KEMITIC JUST Maiden Dance SILVER NETWORK
106 SPEED LIMIT To You B92
107 JOSE NUNEZ & OCTHAVIA Hold On ZYX
108 MOREL'S GROOVE Let's Get It On STRICTLY RHYTHM
109 FRANKIE KNUCKLES Keep On Movin' (Mix) D:VISION
110 GUIRO feat. ANGELA JOHNSON Free
111 CHILDREN OF PLANET EARTH feat. RAVEN Fly Away (Roy's Chi)
112 HARRY CHOO CHOO ROMERO presents INAYA DAY Just Can't Get Enough
113 MATEO & MATOS The Real Thing
114 DUKE So In Love With You (Pizzaman Edit)
115 TOO DEEP feat ZHANA Love & Understanding (Matty's Blues Dub)
116 IAN POOLEY Cold wait
117 SANDY RIVERA & JOSE BURGOS It's Alright
118 JERSEY ST Cried Me A River (Diesel's 5am Remix)
119 DJ Q Way Back Then
120 KWS feat TEDDY PENDERGRASS The More I Get The More I Want
121 SHAZZ Pray
122 ODYSSEY feat JULIUS PAPP & DAVE WARIN This Light
123 SANDY RIVERA & JOSE BURGOS Living Me
124 LONI CLARK Searchin' (Mood II Qwing Dub)
125 BLUE 6 Sweeter Love (Jay's Full Vocal Mix)
126 BSO feat. ALISON DAVID Sunshine (Sunset Vocal Mix)
127 WILL BATES All U Gota Do Is Love Me
128 CRUSTRATION & BRONAGH SLEVN Flame (Mood II Swing Vocal Mix)
129 PHOTEK feat ROBERT OWENS Mine To Give (Virgin 2000)
130 MATEO & MATOS The Real Thing (Kot Classic Mix)
131 SILICON SOUL Have You Seen My Baby
132 SMOKIN' BEATS Dreams (Club Mix)
133 CLUB SESSION Dance To Heaven
134 HARDDRIVE 2000 feat. LYNAE Never Forget When You Touch Me
135 SHABOOM Woman Cry (Blakdoctor Remix)
136 THE RURALS That Feelin'
137 ROSE WHITE A Little More Love
138 MATEO & MATOS The Real Thing (Kot Underground Mix)
139 DENNIS FERRER Unconditional Love [Large 2000]
140 DJB PRODUCTIONS present RICHARD ROGERS Can't Nobody
141 SOULCITE Tenderly
142 ROYAL FAMILY Limitation [NPKG 2000]
143 MATEO & MATOS Keep On Dancin'
144 FM PROJECT You Got The Love (Dub Remix)
145 IAN POOLEY feat KIRSTY HAWKSHAW Visions
146 NU BIRTH Anytime (Original Mix)
147 DANNY REMPLING Community OF The Spirit (Kings Of Tomorrow Mix)
148 4 HERO Star Star Chasers (Masters at Work Main Mix)
149 MOLOKO The Time Is Now (Francois Vocal)
150 PAUL JOHNSON Hear The Music
151 ROY DAVIS Jr. Gabrielle (Words To Give)
152 LENNY FONTANA feat FREDDY TURNER Thinkin' About Your Love
via www.djdacha.net

View Comments