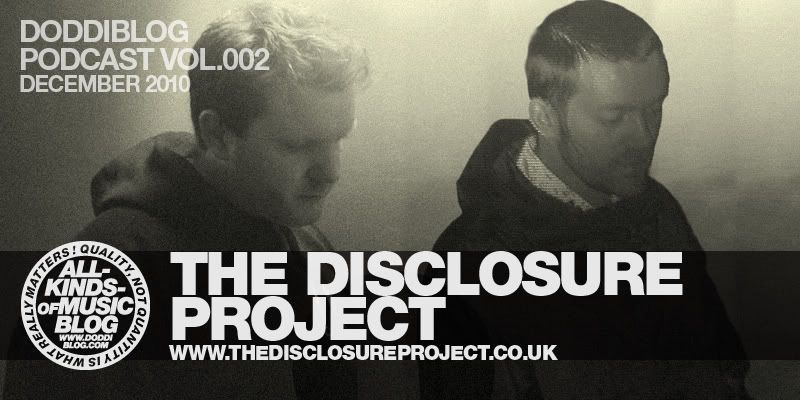 Download
320kbps // 107:02min // 245MB
I am glad I can present you today the second part of
Doddiblog Podcast
. The guest mix is by one of my long time favorite deep house DJ and producer duo -
The Disclosure Project
which consists of
JP Phillippe
and
Mr. Jones
. They run their own record label
Disclosure Project Recordings
with a big catalogue of great EPs and a
roster of artists
like Frankman, James Teej, Jon Silva, Save. As, Neurotron, Office Gossip and many many more... You can find some of their previously published DJ mixes on doddiblog
here
.
You can find the first episode of the Doddiblog Podcast
here
.
Also big thanks goes to my very talented buddy
Jack StillSoft!
who provided cover for the podcast and made
my new logo
as well.
I hope you enjoy the mix like I did!
The tracklist and short bio of The Disclosure Project after the jump.

A two man team producing electronic house, deep, minimal and soulful.
The guys are self confessed obsessive musicians and producers, utilising as many electronic gadgets and software as they can use with ten fingers. Always working with current hot artists and labels on new tracks and remixes and always busy in the studio for international releases.
Signed to various labels such as : Acryl, Aquamarine, Body Rhythm, Behaviors, Disclosure project, Deepclass, Deepology, Elevation, Night Drive, Pesto, Proton and many others including major label licenses like EMI/Sony/Plastic City/Zyx/universal/BMG etc...
Remixers of Blaze, Tom Pooks, Burnski, Jannae Jordan, Ross Couch, The Messenger and many more are already available plus some major upcoming remixes yet to be released.

Aquarell - Circus - Original (Night Drive Ltd)
JP Phillippe - Inner Joy - (Disclosure Project Recordings)
Ocean Gaya - Somethings - Disclosure Project Mix (Acryl)
Marvin Zeyss - Watch Me Falling Down - original (Disclosure Project Recordings)
Replika - My Burning Soul - Original (Sophisticated)
The Messenger - No More Lies - Original (iRecords)
Da Funk - Gloomy Scene - Pablo Fierro Dub (Acryl)
D Nox & Beckers - Call Me - Evren Ulusoy Something Deeper Remix (Unreleased)
Satoshi Fumi - Java - Dub_Mix (Proton Music)
klartraum - Angelo - Original (Lucidflow)
Yohan Esprada - Pain Qui Rend Fou - Moxy Street Rolling Baguette Remix (Deso records)
Addex - Heart Opacity - The Disclosure Project Remix (Etoka Records)
The Disclosure Project - Evolution Will Come - (Unreleased)
Mr Jones - Cut One - Original (Night Drive Ltd)
Greg Stainer - Keep It Real - Davidson Ospina Remix - (Stained)
Moodymann - Music People - (KDJ)
Franc Spangler - Forever A Dub Beats - (Delusions Of Grandeur)
Hall & Oates - I Cant Go For That - Lehman & Minus remix - Mr Jones Re-edit (Unreleased)
Jay Eff vs Frankman - Love Thang - Ron Deacon Remix (FM Musik)
Stephen Hoellerman - The Hum (Motivic)
Markus Homm - Integration (Night Drive)
Franc Spangler - Forever A Day (Delusions Of Grandeur)
Henry Gilles - Oscar Likes Deep House (FM Musik)
Tonk Project - Believe In Me (Behaviors)
The Jones Girls - Nights Over Egypt (Philadelphia International)
www.thedisclosureproject.co.uk
www.mrjonesthedj.co.uk
www.jpphillippe.co.uk
soundcloud.com/thedisclosureproject

View Comments