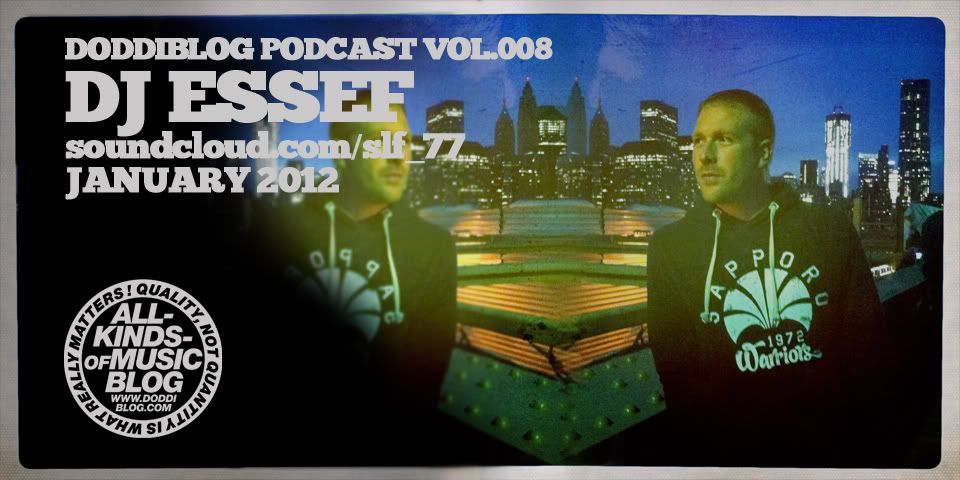 Download
Mirror
8th instalment of
doddiblog podcast
is finally up! I am honour to have
DJ Essef
as the next DJ in my podcast series. I know about him for about one year and I instantly became his fan from the very first mix. I like that he is playing a lot of recent atmospheric drum and bass producers like SoulTec, Aquasion, Blade, Jrumhand, msDoS etc.
Hope you will enjoy the mix!
Click "Read more..." to expand menu with the tracklist.

1. Jrumhand: Flow Through (Dub)
2. Mystic Moods: Music Is The Basis Of Everything (Decon 2010 Refix)
3. Phat Playaz & Blade: The Blade Project
4. Phat Playaz & Dynamic: Since You Been Gone
5. Jrumhand: Tuesday (Dub)
6. Jill Scott: He Loves Me (SoulTec & B-Pro Remix)
7. Decon: Ghost Tune
8. Decon: Choice (Dub)
9. Dynamic: Make Me Feel
10. Phat Playaz & Duoscience: Aloe Vera
11. Duoscience & mSdoS: Beauty & Beast (Dub)
12. Roy Green & Protone: Tartagura
13. Static & mSdoS: Mr Gibbs (Dub)
14. mSdoS & Pulsaar: Texas Blood (Dub)
15. Phat Playaz & Blade: Close Encounter
16. Symphonic & Blade: My Town
17. Dynamic: Cities Of Splendour
18. Jrumhand: Simplicity (Dub)
19. Redeyes: Gold Fishes
20. mSdoS: A Glamorous Life
21. Jrumhand: Visions Of Music (Dub)
View Comments