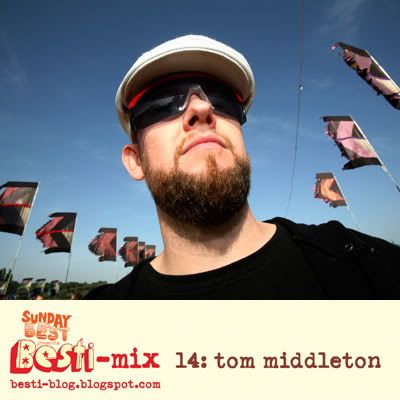 Download
Click "Read more..." to expand menu with the tracklist.

Besti-mix 14 is helmed by a true dance music legend, Tom Middleton, who sets his sights on outer space with a brilliant fusion of deep house and spacious techno that we've come to expect from the man behind a myriad of genre-crossing alter-egos, including Global Communication, Jedi Knights, Reload, Cosmos and AMBA, that span experimental ambient to electro funk.

But instead of resting on his laurels, this Star Wars-obsessed, classically trained pianist and cellist is always pushing forward, looking for inspiration and charting new terrain. Thank God – and Besti-blog – then, for Mr Tom Middleton and his exclusive Besti-mix...
01 Stereo MC's : The Here And Now (Tom Middleton Remodel) - Graffiti Recordings
02 Slam : Heart Of The Soul - Paragraph
03 Mike Monday : Touch - Get Physical
04 Mike Shannon : Under The Radar - Cynosure
05 Lusine : Two Dots (Nic Fanciulli Remix) - Saved
07 Andreas Saag : Dragons feat Ernesto - Freerange
08 Pete Heller : Overtime - Buzzin' Fly
09 Lovebirds : My Man - Freerange
10 Chuck Cogan : The Warm Echoes Of Nature - White
11 Steve Ferrand : Natural High (Francois Dubois Remix) - Tronicsole
12 Omar : Lay It Down (Andre Lodemann Remix) - Peppermint Jam
via besti-blog.blogspot.com
View Comments